#128 – More Like 'Sound of Boredom' feat. Miles Klee
2 months ago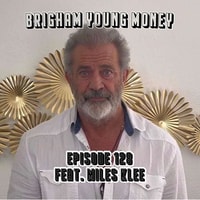 Episode Notes
We are joined by Miles Klee (@youwouldntpost) of Rolling Stone and formerly of the late, great Mel Magazine to discuss the reason why Miles' mentions and email have been toxic over the last week.
Yep, we are discussing new Indie hit, Sound of Freedom. It's terrible, don't see it.
Read Miles Klee's review of the film here.
Or Miles' other article about Sound of Freedom and its impact on Wall Street Bets "Apes" and their AMC Theater stock here
Also, subscribe to the Patreon at patreon.com/brighamyoungmoney