#101 – Indignity Index
3 months ago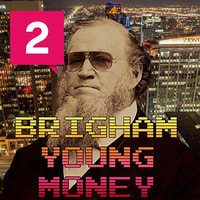 Today we are joined by Brian from the fantastic podcast The Worst of All Possible Worlds!
The boys talk about Greg leaving the Democratic party alongside his favorite surfing TERF, the country moving towards Brandonizing weed, Alex Jones owing the monetary equivalent of trillions of poison brain pills in damages, Burgess Owens hiding from a debate because of a cartoonist, and more.
And finally, we get Dignified using a new online political lifesaver that's stopping violence and saving democracy by analyzing one tweet at a time. Buckle up, baby.
Oh! And join the patreon here: https://www.patreon.com/brighamyoungmoney
We just launched a discord for our patrons. Should be cool.