#100 – Keeping it 100
3 months ago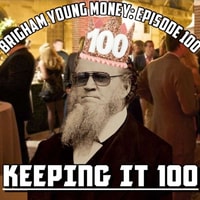 That's right, baby. We've made it to 100 and the haters and losers are devastated. They said we couldn't do it. It is the season finale of BYM and we have a special show for you all.
We start out with a quick catch up with a certain congresswoman from Florida, some talk about The Church's pamphlets and a general authority quoting normal guy Rod Dreher, and a discussion of a battle among a father, his son, and CTE. After that, the boys review the hottest politically-correct Halloween costume trends, brought to you by the Deseret News.
And finally, we play a bunch of messages left by our loving friends and guests of the pod who definitely still like us. I think.
Go support them because we love them almost as much as we hate ourselves:
Thank you all for listening and supporting the show. Let's hope the Great Salt Lake isn't dry by the time we get to episode 200.